Story continued from
here.
The next morning, long past dawn, all of us got up and got ready. We were still in good time for the hotel-provided breakfast though. We finished our breakfast in batches, bought water and other essentials (read snacks) in Provo, where we had halted for the night. After picking up coffee (
only Starbucks coffee
, P insisted) we were good to go.
Our plan was to visit three national parks in Utah:
Arches
,
Canyonlands
and
Bryce Canyon
National Park. Thus our vacation would essentially be a road-trip interspersed with lots of hiking to view the various sights the parks had to offer.
Arches National Park was a good three hours away from Provo. K, P, B, S and me set off in one car, a Toyota Camry. The rest were in the other car, a Pontiac Grand Prix. Other than V, who never switched cars, all of us managed to ride in both the cars at various points. Of course, since the Camry was bigger and more comfortable, S and me stuck to it for most of our trip -
hehehe
!
Our journey to the Arches consisted of travel through desert-like lands. I was extremely surprised to see the barren landscape since I had somehow pictured Utah to be on the same level of green as Seattle! I guess I had confused
Yellowstone
National Park with Utah (don't ask me how, it is a long story). Though the morning had started off being slightly chilly (thus bringing doubts about the wisdom of exclusively carrying only summer clothes), it was baking hot during the drive.
The drive went off in chatting, admiring the landscape - the vast vegetation-less flat lands soon gave way to beautiful erosion-sculpted rocks - and listening to music. On day one,
Guru
music was a soothing accompaniment. By day four, I was ready to burst into tears if anyone insisted on playing the Tere Bina song one more time.
Due to the various different times at which the two cars took breaks, we wound up having lunch at different places. Our car stopped at a Mexican restaurant - decent food, while the members of the other car had Subway sandwiches for lunch :-)! After lunch, we synced up to make our entrance to the Arches park together.
K and B were the main planners for the trip. Both, especially B, are hiking enthusiasts and had included a lot of short to medium hikes as a part of our sightseeing plans. By some freak coincidence, both S and me had wound up buying the exact same hiking shoes from
REI
though we had bought it independently at different times from different cities! These shoes are heavy and hence we also carried along slippers to wear when we were not hiking.
At the first stop, Courthouse Towers, once the cars were parked, great preparations went afoot for hiking. S and I changed from slippers to shoes. Everyone applied sunscreen, donned hats and sunglasses. Then everyone stocked their backpacks with water and
Gatorade
. The ones owning
camel-bak
s filled the water-pouches up. Finally, after some fifteen minutes of intense preparation, we were all set and good to go.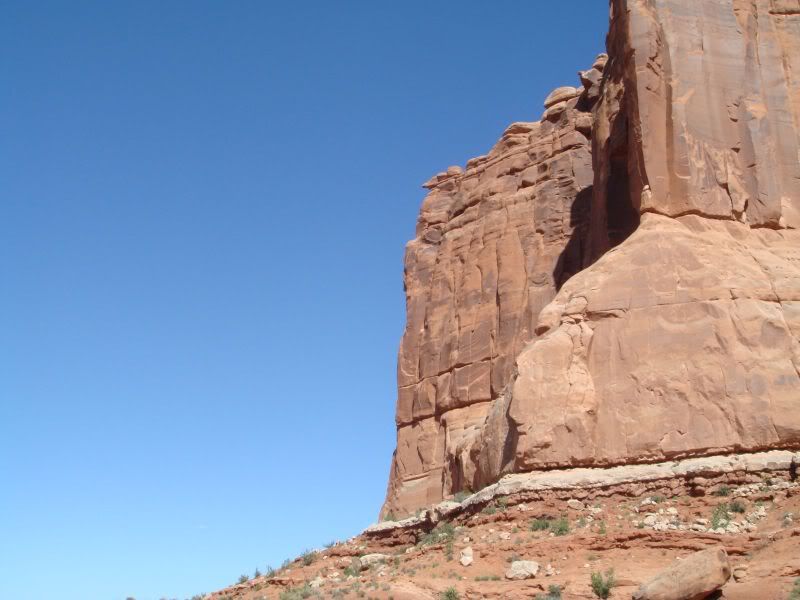 Thus, it was rather an anti-climax, when, two minutes later, we stood in front of our destination! Apparently, this view point actually did not require
any
hiking.
Sheesh
! However, the fortress-wall like structures was awesome to look it. I couldn't believe that these were nature-created!
After Courthouse towers, it was on to the Balancing Rock.
The picture speaks for itself I guess! This involved a little more walking around but it was still manageable. I guess the intense heat had a much more vital role to play in sapping our energy! There were some climbable rocks around and all of us had a fun time clambering up and down.
P provided the most amount of entertainment - he climbed up a slope and called everyone's attention to the fact.
Immediately, someone came up with the brilliant idea of throwing small pebbles at him as target practice - P soon decided to come back down in a hurry!
From the Balancing Rock, it was onto see the Windows. After mounting a series of steps, we saw a natural "window" on the rock face. S exclaimed, "
Hey, I can see a vista through the window....Windows Vista
" - I guess you cannot forget your roots :-P!
We spent sometime sitting on the base of the rocks on the other side of the Window. It was very calm and peaceful! Some more hiking brought us to the other Window - the North Window. Together, the windows looked like the eye-mask of some super hero :-)! Most of our gang refused to hike up to the North Window to get a closer look. But B, K, S and me had totally gotten into the hiking mode and went up close there too!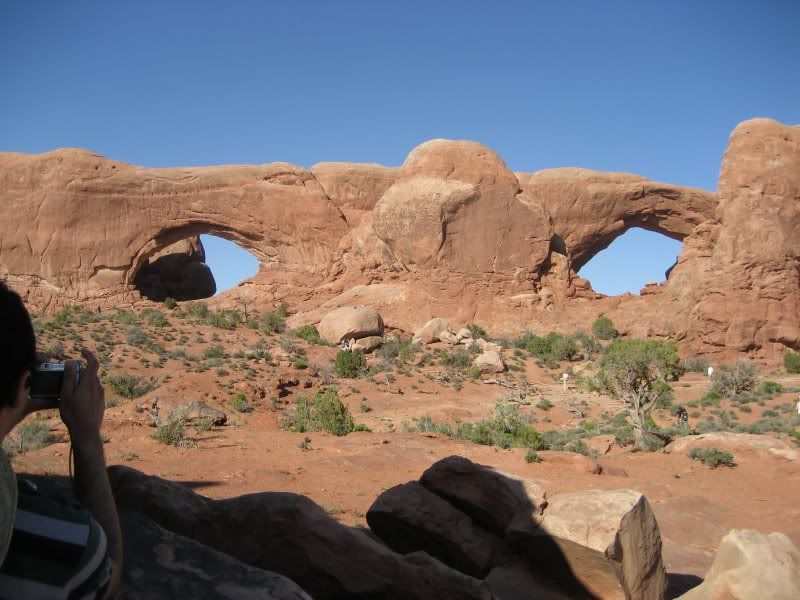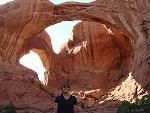 From the Windows, it was time to go to double-arches. The heat put off most people to hike up to see it. But R, T, S, B and me set off. It was totally worth it! I climbed some more rocks there - it was really good fun.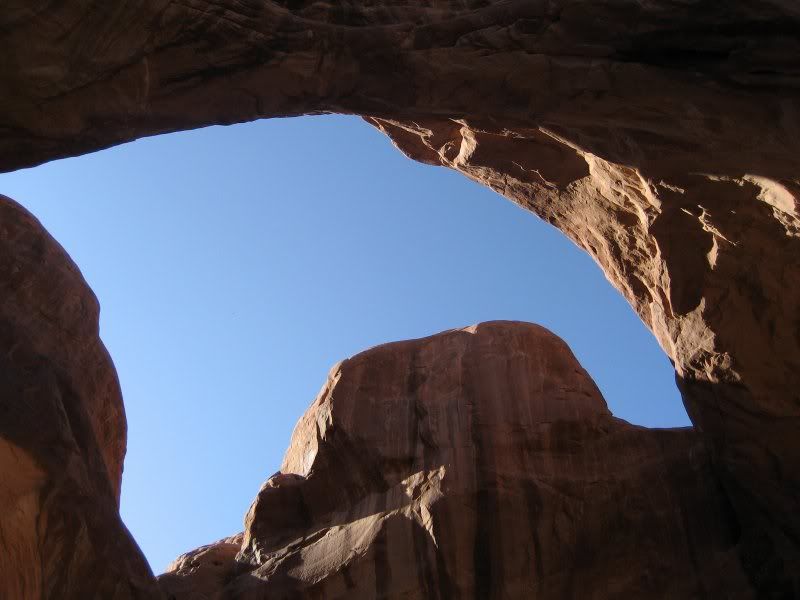 By now, it was getting late. It was time to hike up to see the Delicate Arch. We wanted to be there during sunset. The Delicate Arch hike was the longest hike of the day - some 3 miles round trip.
At the entrance to the hike, there were dire warnings about carrying enough water and wearing proper footwear. We loaded up our backpacks with additonal water (though my sad excuse for a backpack could not hold more than one half-litre bottle of water in it at at time, forcing me to carry one more in my hand), reapplied sunscreen and set off. R had a rather full looking backpack - to our questions he seriously replied, "
Oh, I have a frisbee, a ball and my flute in it.
" Huh!!?!!
This hike started off on even land. But soon, it turned into an upwardly sloping hike. I started puffing and panting like a steam engine. R was at the lead, I was behind him, trying to keep up with his faster speed - the advantage being, I could happily reach some point and then pant at leisure while ostensibly waiting for the others to "
catch up
".
We hiked up a hill and then the path became considerably narrower as we climbed closer to the top. I was still following R like Mary's little lamb. At some point, R climbed onto a really, really narrow and uneven trial, where one edge sloped away into the valley. My heart lurched into my stomach as I put my foot on the ledge.
Oh my God
, what if I fell! Putting all my faith in God and still clutching one bottle in my hand I followed R and safely got over to the other, wider end.
Finally we reached the top. This is what we saw: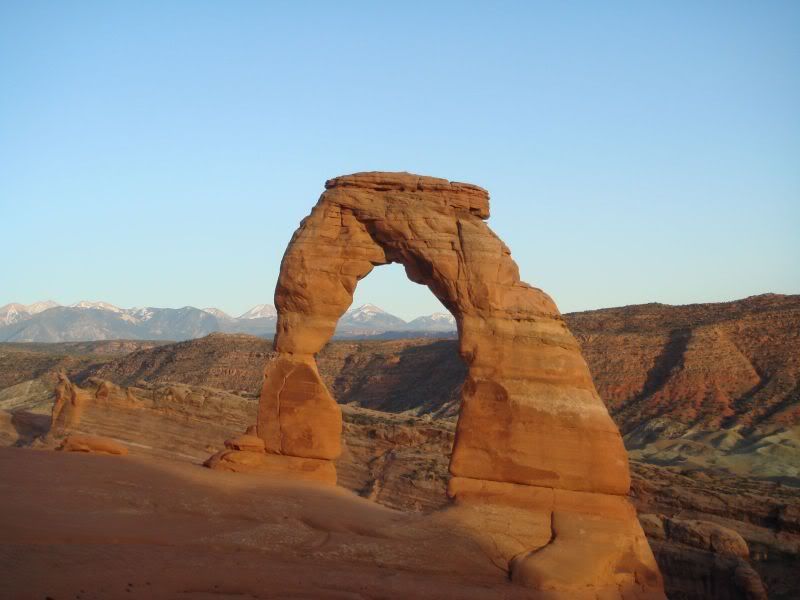 Wow! The Delicate Arch! WOW! This one sight alone justified the cost of my air-tickets! On two sides of the Delicate Arch, rock formations provided natural seating. We joined the many people already seated there in eager anticipation of sunset.
Taking long sips of water, we waited for the others to show up, and they soon did. We all descended a little further down and sat watching. Some of the more adventurous folks among us went to take a closer look at the Arch. S and me were both terrified of falling off the ledge and we stuck like lizards to our chosen rock seats.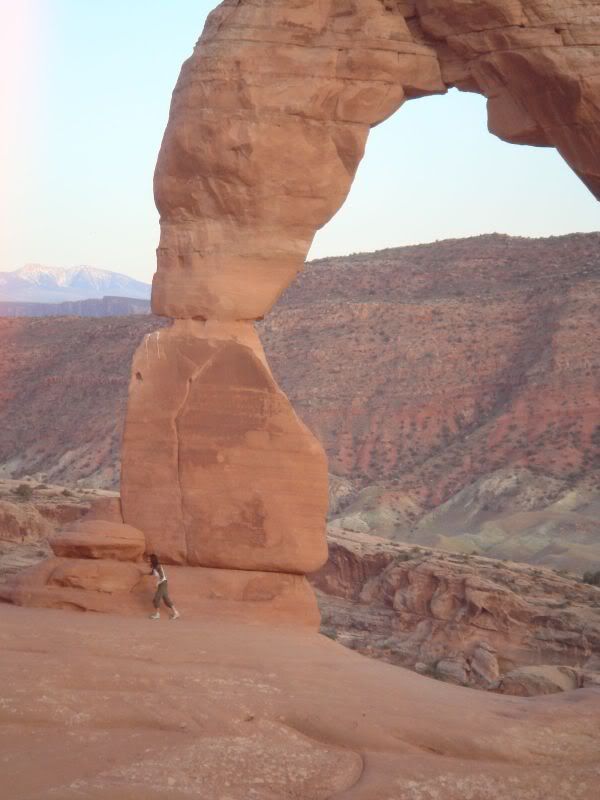 Unfortunately, the sun set behind clouds that day, so we couldn't see any dramatic color change. So we set off back down. That was when I remembered the heart-stopping narrow ledge and asked S how she had managed (S is even more scared of climbing than I am) . S replied, "
Which place are you referring to? I did not have any difficulty anywhere!
". R and I were both puzzled - were we really that chicken that only
we
felt that the ledge was dangerous?
On our way back, the mystery was solved. What had happened was, while climbing up, R in stroke of brilliant genius had deviated from the established pathway and had instead climbed onto an non-existent "pathway" on the slopes instead. Of course, me doing my "Mary's little lamb" act had blindly followed him too! If anything had happened to me, I would have haunted R for the rest of his life!!! The funny part was, on the way back, R had actually whipped out his camera to make sure he captured S's expression when she navigated the "difficult" portion :-)!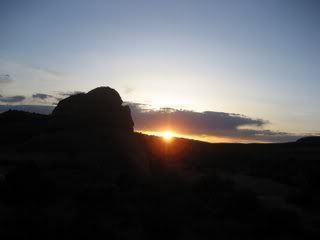 R, T, S and me descended down the trail in one group. The rest of the hike was non-eventful, other than T insisting, "
You should not look at the ground and instead follow your body. It will guide you well.
" Well, his body guided us all
away
from the established path and S and I wound up having to scramble on all fours at some points before we got back on track X-(!
Finally, we reached the cars, utterly exhausted. Once everyone reached the base, we set off towards Moab (the nearest big city) for dinner. We tramped into the restaurant carrying about half the dust of the Arches with us.
After dinner, we checked into the hotel and then went straight to bed. Our earlier plans of getting up early the next morning for a sunrise hike was, obviously, unequivocally scuttled without any protest from anyone.
Photo credits:
These pictures are from R's and S's cameras. I am not sure exactly who took which picture - but it was definitely someone among the nine of us :-)!