I had major doubts about my choice of vacation destination when I noticed that the first reaction people gave whenever I said "
I am going to visit Wisconsin in Feb
" was a look of incredulity followed by laughter and concluded with an unsaid "
You are sooooo crazy
".
Not surprising since the Mid-west is one of the chilliest places to be around in winter. One of the Wisconsin friends I was visiting said the temperature, with wind-chill factored in, was at -35°F the day I booked my tickets.
I am the kind of
person
who pulls on her warm winter woollies and finds a comfortable spot near the heater when the temperature goes anywhere below +50°F. Still, one ought to experience different experiences, no?
Yesterday, I got back safe and sound from Wisconsin. How was the trip you ask? I have simply fallen in love with snow :-). Believe it or not, I actually had a slight twinge of sadness when I landed in San Jose last night and confirmed that my fantastic wish of seeing snow-covered grounds in San Jose was not going to happen.
My Wisc friends tell me that the joys of snow pale pretty fast after a winter of living in it. But as of now, my head is still filled with thoughts of wintry white fairylands. A fairyland where I walked on a frozen lake, threw mounds of powdery soft snow, built a snow-girl, stretched my arms out blissfully as I stood under falling snow-flakes, stepped off the sidewalks to see how deep my feet would sink into the white mass on the ground, sat by the big window of heated house watching the world turn white ...
Instead of justifiably whacking my besotted head, my friends totally humored me (I have
said
they rock, right) even when I admitted that I was cold and numb but was having too good a time in the snow to get away to a warmer spot :-) and when I insisted on treading on the icy sidewalks "just to see how slippery it is".
Ah, snow!
-----

The first snow-girl I have ever made. Note the "ribbon".
Stark trees beside Lake Michigan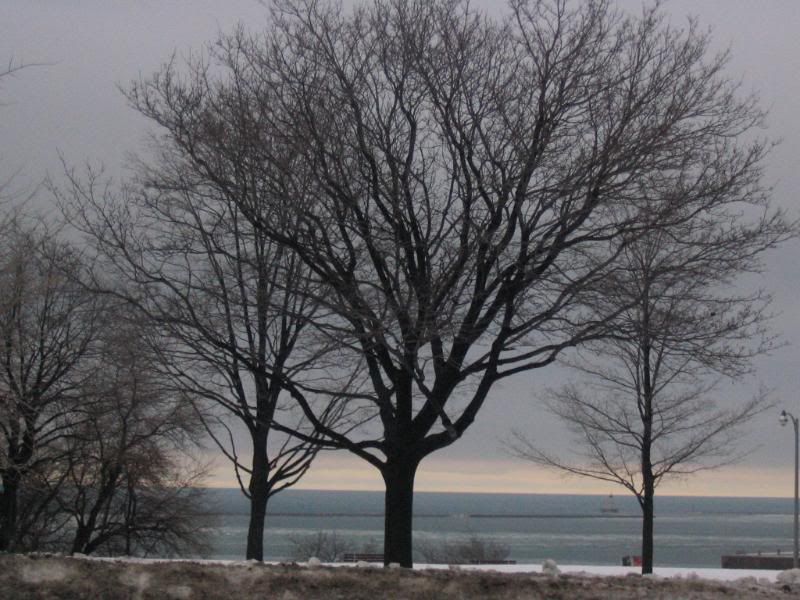 Watching falling snow from the cozy confines of a fifth floor apartment
The ivy covered walls looked ethereal
Sleet covered roads
I thought the white cap gave every house a fairytale look!