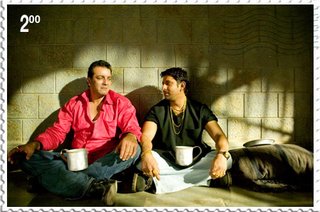 I am just back from seeing
Lage Raho Munna Bhai
. Yup, I am seeing it for the first time after all the dust has almost settled down after its release. And the verdict?
I love it, I love it, I love it
:-D!
So, anyways, the very weekend the movie released, for whatever good reason, I wasn't very keen about watching it. Then something else came up. I was beginning to think that I would finally watch it on DVD (just like I watched
Munnabhai M.B.B.S
, which by the way, I loved too). But a friend who had already watched it loved it so much that he decided that he wanted to see it a second time. So he, me and another classmate from undergrad set off this evening from work.
After a quick but satisfying dinner, we quickly found seats in the theatre - we got good seats, it being a weekday evening and all. Everyone who had seen the movie so far had gushed to me about it. Including my parents, who, in a rare display of movie-watching-enterprise had seen it on the very first week of release (really, I think my parents are hipper than me). And they don't even like
Sanjay Dutt
usually. Hmm, there must be
something
to this movie!
Anyways, it always happens that when something is so hyped up, the end product finally is pretty disappointing (cases in point: Vettaiyadu Velaiyadu,
SoK
etc). So tried to not have very high expectations when the movie began.
The movie got off to a good start. It was fun. I laughed at quite a few places and was thoroughly enjoying myself. But even then, I felt that while it was a good movie, no doubt, it was not the great,
'I-am-going-ga-ga-over-it'
kind.
And then interval happened. And my friend called up to tell me that a trip I have been very much looking forward to for more than three months now has to be unavoidably cancelled :-(!
Boo hoo
- I had been chirping about it to everyone even this noon :-(. Oh well, that is life :-(. Anyways, that dampened my spirits quite a bit. At that point I felt that transferring me to Disneyland with Santa Claus handing out free iPod accessories could have not done much to cheer me up.
Then the movie began post interval. Oh
wow
! It was simply awesome. It made me laugh and think at the same time. Maybe, just maybe, weird as it sounds, each of us can make a difference in this world by just being
nice
! I was rooting for Munna. Circuit had me in splits.
Mahatma Gandhi
had become hot and happening again. As the movie ended, I was in a considerably better mood. After all, is not life exactly how we choose to perceive it?
And then the second wonderful thing of the day happened. The theatre manager walked into the theatre and called out
"Excuse me, excuse me"
to get our attention. As we quietened down, he said,
"We have Mr. Lucky with us."
And there stood
Boman Irani
(who plays Lucky Singh in the movie) in our midst.
Ever since I saw Munnabhai M.B.B.S, this guy's awesome acting and comic timing has bowled me over! And here he was in
person
. We all gleefully shook hands with him and gave him a standing ovation! It was so unexpected that it felt like a dream - one moment we were watching Boman Irani on screen, and all of a sudden he was actually in the hall, talking to us! Woww :-D! Yeah, my day was made!
I tell ya, in a couple of hours, all this euphoria will be gone. And my feel good factor would have come back to normal and I will start grumbling about my cancelled trip in right earnest. But right now I am a happy ducky and I am going to enjoy it while it lasts. Sayanora folks!