Continued from parts [1], [2] and [3].


Tin-tin-TIN. Tin-tin-TIN.
The alarm rang with monotonous regularity at 7.15a. It was just some five hours since we had closed our eyes and none of us budged. Finally, that morning, I gave up fight first and went off to shower. We were going to Key West (a 3.5 hour journey away) and we had to leave reasonably early since we were planning to return the same day.
As usual, we breakfasted at the hotel cafe. Given our tightly planned schedules, for the duration of the entire trip, we never did manage to fulfill our ambition of going somewhere else for breakfast! After getting the surprisingly straightforward directions (go out of the hotel, turn right and keep going straight till you hit Key West), we set off.
Initially, the journey was mostly on roads with traffic signals. We got to see a good bit of Miami (and Miami traffic - that deserves an entire post by itself). That day was even hotter than the previous day. The sun shone mercilessly and we turned on the air conditioning full blast in the car. Simultaneously, S and me made the decision to buy t-shirts, shorts and slippers once we got to Key West to prevent baking/evaporating in the heat.
After a while, the commercial buildings on the sides of the road began to reduce in number. Soon, we had reached marshy areas on either side of the road and the road had changed to a two-laned one (in some places a one-lane one). Then we got to the bridges.
The tip of Florida consists of a series of "
Keys
" - each key referring to an island. The keys have names like Key Largo, Long Key and so on. Some of the "keys" are joined by a series of bridges. The southernmost key, which is also the southernmost tip of mainland United States is called Key West. End of Geography lesson :-).
The bridges were over the Atlantic Ocean. Atlantic ocean has such a beautiful blue-green color to it - we all feasted our eyes on it! We hardly noticed the long journey - the beautiful vistas around us and the interesting anecdotes (read gossip :-P) we had to share kept us fully occupied for the entire duration of the journey.
On the way, D had located a Jamaican restaurant in the Key West guide book for lunch. So when we reached Key West around 1.30p or so, we parked as close to the restaurant as we could. As usual D and S were stuck with eating veggie wraps (though they said it was different from the usual wraps in a nice way) while I had a fish entree (yummy).
The next stop was for summer clothing. We were midway through our shopping process when we realized that the shop had the most leching set of salesmen ever X-(! I did not get the name of the store, so cannot warn you, but it was on Whitehead road near Mallory Square and offered supposedly
"great"
discounts. Anyways, at the end of that shopping expedition, S and me had finally gotten into more summer-type clothes and flip-flops :-D. This trip also resulted in me walking
barefoot
for a short distance on the streets of Key West (don't ask how X-(!).
Why did the chicken cross the road?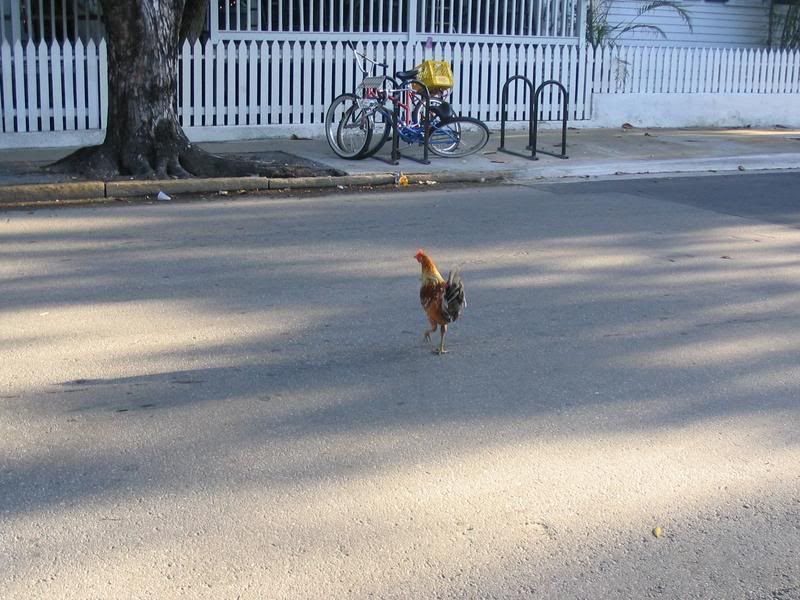 Now we were all set. We enquired from our parking garage attendant about getting to the Southernmost tip. He said it was a 30 minute walking trip from where we were. But we also wanted to see the sunset which was supposed to be best viewed from Mallory Square in the exact opposite direction. Now, it was already 4.30p and and the sun set at 5.30p . The parking attendant gleefully said that there was no way we could make it for both (we wanted to see the southernmost tip in daylight).
Ah, well, we decided to see about that :-)! We set off towards towards the Southernmost tip. On the way we saw lots of quaint cottages - wish I could live there! We also saw lots of roosters *all over the place* - some of the crowed too. It felt like a village in India :-)! We walked right past Ernest Hemmingway's erstwhile house! It was a lovely walk in the fast approaching dusk. In 20 minutes, we were right up at the tip where an extremely colorful (read garish) marker proudly proclaimed
"90 Miles to Cuba. Southernmost Point. Continental USA"
. In front of the marker was a queue of people patiently waiting to take Patel pics! So, if you ever make a really garish sculpture of some sort and want it to get a lot of attention, just put it at some significant landmark :-P!
Of course, we joined the queue too and had other people take snaps of us. We also spent sometime peering hard to check if we could spot some bit of Cuba by some chance (we couldn't). Then of course, we had to journey back to Mallory Square. That was even further up north than our parking place - so we set off at a brisk pace. The clock was close to 5.25p as we neared Mallory Square. There was a sunset festival going on - with lots of shows, food and crowds.
A huge crowd of people had gathered to watch the sunset. S, D and me happily joined the crowd too and started watching the sun, when, all of a sudden to all our dismay a gigantic cruise ship, docked near the shore, started moving and halted, effectively blocking out the sun for all of us on the shore! A collective groan went up and mercifully, all our curses seemed to have reached the ship's captain. The ship retraced its steps and left a full view of the sun again allowing us to observe a beautiful sunset (and take some excellent pictures :-))!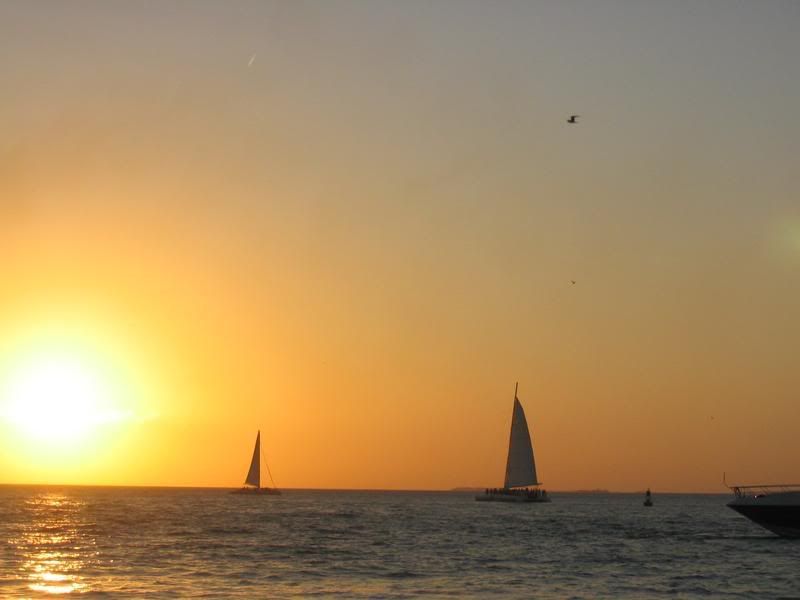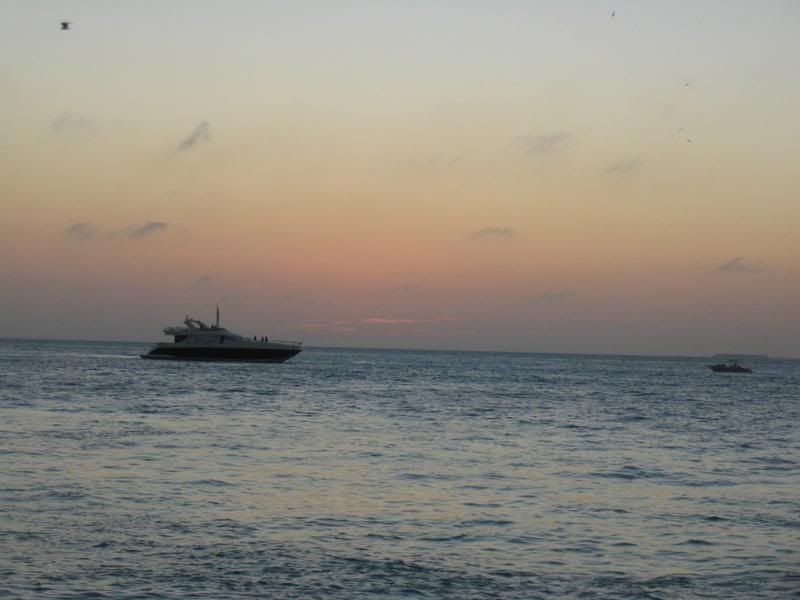 Once the show got over, the crowd began to disperse. We wanted some refreshment after our rapid trotting to two ends of the island. We found a restaurant which served coffee and also ordered Key Lime Pie which seems to be a speciality of that region. That revived us. We were good to go again :-)!
We freshened up a bit to get ready to go for the Ghost tour. Unfortunately, a call to the tour operators let us know that it was cancelled on account of Christmas Eve - darn!
So there was nothing to do but find a place for supper. Our attempt to find an Indian place did not meet with success so we went to an Italian place instead. The food was pretty nice. This place had weird decoration - one dollar bills were stapled all over the place, ostensibly by the restaurant patrons - each of the dollar bills had signatures/messages of people. Even as we ate, a couple stapled a new dollar bill to one of the beams on the cieling. I was busy for a while trying to calculate how many dollars the total of all these disfigured bills would come up to (and whether I could buy a
condo
on Fisher Island with the money ;-)), but my brain refused to cooperate and I gave up!
Satisfied with the dinner, we set off to our car. Since we had walked a fair distance to the restaurant, we strolled back in a leisurely manner, browsing through the various stores, buying knickknacks, taking pictures and chatting.
Finally, we started from Key West around 9.00p. The first part of the journey went off in conversation but as it got late the conversation slowly died down. S went off to sleep in the back seat. D as navigator (and of course, driver me) kept awake. Finally, around 11.40p, we were nearing Miami Downtown. Ah, a couple more blocks and we would be at the hotel!
Right!
All of a sudden, the road split into two without any warning and of course, we were on the wrong fork and went off into some freeway. We had a vague idea of where our hotel was from there - so we set out tracing our way back to it. And being
lucky
souls, we went around in circles, rectangles and other geometric shapes without finding the hotel. Now what?
Finally S (who had woken up to the sound of D's and my agitated talking) spotted the lit up sign of the hotel on a building some way behind us (as D said later, thank heavens we chose a hotel which prominently stood out or we could
still
be wandering there) and so we traced our route back. After one more wrong turn on a one way street and an almost wrong entry to the parking lot, we made it back almost
45 minutes
after our inital expected time of arrival!
We trudged back to the hotel looking like tramps - our faces were muddy and our hands and feet were grubby after all our walking. We looked wornout and tired and pretty much like something even a cat wouldn't drag in! We were half worried that the hotel management would throw us out thinking we were trespassing but thankfully it did not happen :-)! Once back in the room, we had quick showers (no amount of sleep could help in putting off the need to feel clean).
We had had a lovely day. But to say we were darn tired would be an understatement. We were utterly exhausted! And thus, we were all deep in slumberland a short while later.
To be continued...
Post scripts
1. I drove both to and from Key West. Since both the onward and backward journeys were done without *any* breaks, it marks the first time I have driven some 340 miles on a single day in two continuous stretches of about 3 and 3.5 hours each :-D!
2. Florida seems to have a lot of Cubans. Since Indians look somewhat similar to Cubans, at some places we were mistaken to be Cubans and had Spanish sent our way (of course, our blank, dumb and uncomprehending expressions soon corrected the misconception).
3. How many of you non-veggie's out there knew Grouper was a kind of
fish
? At the Jamaican restaurant for lunch, I asked the waiter what a grouper was (thinking it was a group of all kinds of meat - in retrospect, yeah, that sounds dumb - thankfully I did not spell out my thoughts) and the waiter just stopped himself from rolling on the floor with laughter when asking "You don't know what a
grouper
is? Really? Hehehehehehe!" Hmph X-(!
4. Women-folk, next time you find the adult-sized generic souvenir t-shirts too broad/long for you, look in the Youth section - those t-shirts fit much, much better! Thanks to S for making this brilliant discovery!
*
Kanyakumari
is the southernmost
tip
of India.