Continued from parts
[1]
and
[2]
.
So we bought our tickets for the bay cruise and jumped onto the about-to-leave cruise boat. It was a flat vessel with two decks. The lower deck was enclosed while the upper deck had all sides open and plastic chairs on it. We obviously chose to sit on the upper level. Initially everyone was staidly seated but as the boat began to move into the bay, everyone became busy taking pictures.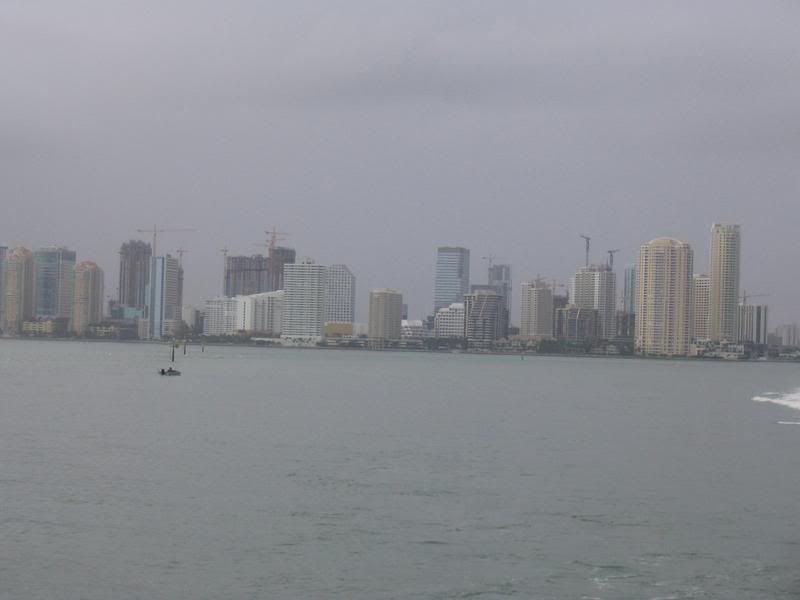 We had a good view of the Miami skyline. It was not anywhere near as breathtaking as that of that of NYC, Chicago or all those places - nevertheless it had a charm of its own. The islands (manmade and natural) at Miami are apparently home (okay, one of the multiple homes) to many of of the rich and famous.
We first saw Fisher Island where condos sell at upward of $(
insert crazy number here
) million per unit. A bit too hefty a price maybe but apparently you can rub shoulders with the likes of Oprah Winfrey, Boris Becker and other such people if you own a place there! Oh well, California lottery is still open I hear :-)!
Gloria Estefan's modest ;-) house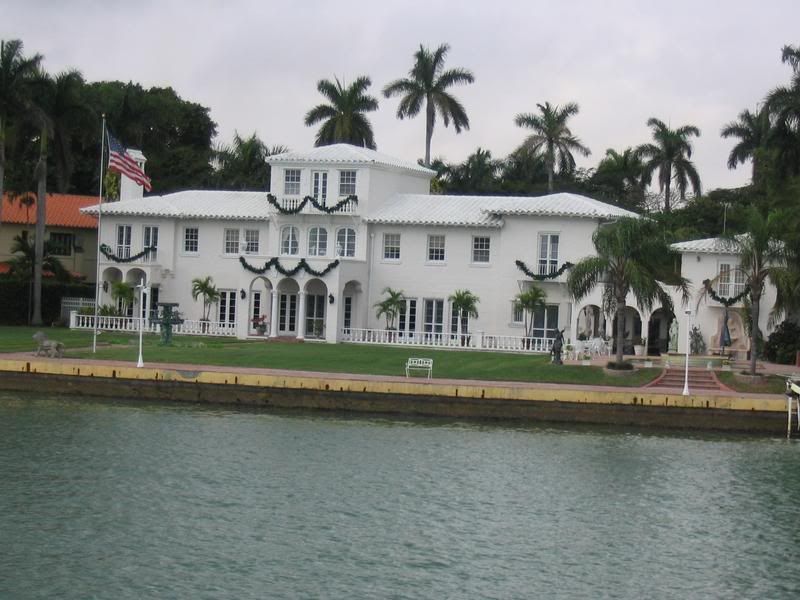 We were also entertained with lots of interesting anecdotes from the recorded voiceover and were busy clicking pictures. We also saw another of the insanely rich housing communities on an island called, appropriately, Star Island. Gloria Estefan, Shaquille O Neil and a bunch of other celebrities own homes there. After some time of hearing prices of those houses, $5 million began to sound very
cheap
to me :-)!
The biggest (and priciest) house on Star Island
There was a brief lull in the sightseeing when we were travelling in the ocean and the captain invited us all to take pictures up front if we wanted. Being true Patel-snap enthusiasts, S, D and me immediately rushed into the cabin and took pictures posing with the captain's cap and holding the navigation wheel (
er
, what is the correct term for it - tiller?) of the ship :-D.
M who had been watching over our stuff for us (she being a Miami-resident and all refused to do touristy stuff like that -
hehehehe
) told us that a bunch of male passengers had been laughing at the Patel-picture-taking antics of us
"silly girls"
. Well, sometime later, we saw
them
sneak to the captain's cabin to take pics too - hah and double hah :-P!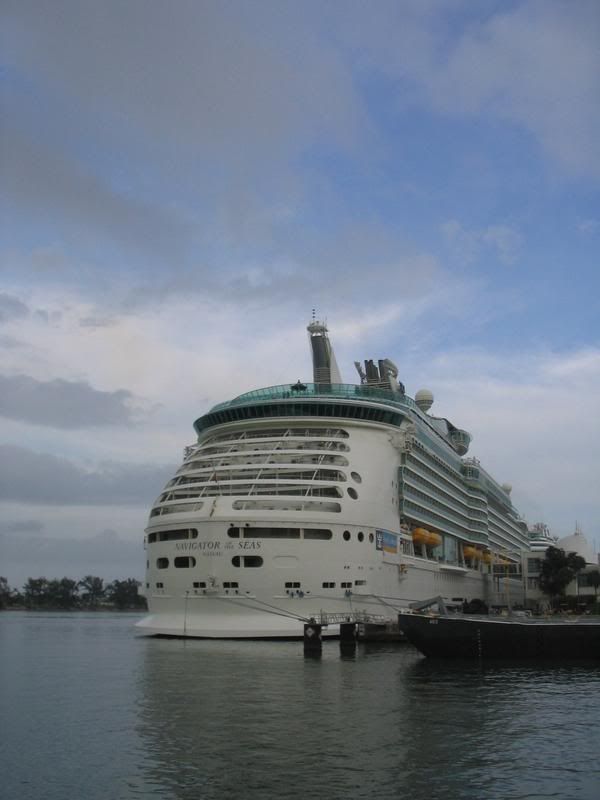 Miami is also apparently called the Cruise Capital of the World. Many, many cruise ships depart from its shores. As proof, we could see multiple cruise ships (they are HUGE - did not realize they were quite so big!) docked by the shore!
Cruise ship behind waving palm trees
By now almost an hour had passed since our departure. The diffused sunlight was playing on the waves and formed pretty sparkles. A mild and refreshing breeze blew around us. The gentle rocking motion of the boat seemed like a lullaby. Yeah, you guesed it, M and D fell fast asleep in their chairs :-))!
But they woke up after a pretty quick cat nap. The rest of the cruise consisted of seeing some more pricey homes (and absolutely no occupants of those houses - really, do people
live
in those houses?) and cruise ships. Then, we were back on dry land! We decided to spend sometime looking through the stores in the Bay Side area. Everyone bought minor things.
We then spotted a stall selling fresh juice of all kinds. And guess what, they were selling freshly pressed
karumbu
(sugar cane) juice. Yipeeeee :-D! We decided to try out with one glass first - but soon the number of orders had increased to three (D,
woman of steel
, refused to succumb to temptation). I blissfully savored that long forgotten taste - *yummmy* :-D!
Give me a book and a deck chair and I would be all set in this place!
We wandered some more and took a lot more pictures. It was awesome to see the bay fringed with palm trees. Since we had plans of clubbin' that night, we had to conserve some energy. So we decided to head back to our car and then back to the hotel. A was to pick up M from the hotel (she had to leave as she had guests coming over to her house the next day and being a married woman and all was making an elaborate dinner).
S, D and me decided to find out more about the night life in Miami. Enquiries at a Starbucks (the
ask the locals
policy) brought recommendation for a dance club called
Space
. So,
Space
we decided to go! But first, a break at the hotel!
On reaching the hotel, we bade goodbye to M and went back to our room. D, S and me - all of us had, true to our "seasoned traveler" tag, smartly started packing only
after 10.00p
before the night of our trip - this process had gone on for a while resulting in a big sleep deficit for all of us.
The bed looked very inviting and S and me crashed immediately and slept well for around 30 minutes while D channel surfed. After that it was time for dinner. We decided to check out the hotel's restaurant and finally went to their sports-bar for food (the proper restaurant did not have any veggie options but the sports-bar did)!!
After dinner, we decided to spend some time by the outdoor pool. It was wonderful balmy weather and we talked about all random topics under the moon :-)!
Around 10.30p we decided to get ready to go night-life checking and took a cab to
Space
. The music was mostly middling to downright bad. The dance floor took some time to warm up but the crowd began to gather after a while. So we were finally safely able to lose ourselves in it and
dance
with the least danger of being seen :-D! We had good fun dancing (or more accurately, waving hands and legs about) for an hour before we decided to call it a night. We were going to Key West the next day and so had to get up early.
Once we got back to the hotel, we all hit the sack without any further ado!
To be continued ...